This is the section of MosesNews.com where we present entertainment tailored to our Loyal Following. If anyone would like to submit a guest post, send me an email to DonMosesLerman@gmail.com.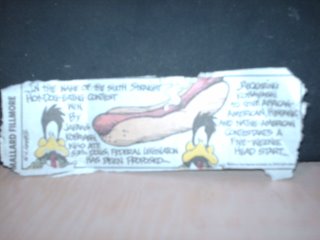 CARTOON CHARACTER MILLARD FILMORE HAS KOBAYASH AND HOT DOGS AS SUBJECT IN TODAYS P
APER
.* repeated since picture is not a good quality as follows......
IN THE WAKE OF TH E SIXTH STRAIGHT HOT DOG CONTEST WIN BY KOBAYASHI WHO ATE 533/4 DOGS FEDERAL LEGISTRATIONPROPOSED REQUIRING TO GIVE AFRICAN AMERICANS HISPANICS AND NATIVE AMERICANS A FIVE WEENIE HEAD START