Moses Entertainment Page
This is the section of MosesNews.com where we present entertainment tailored to our Loyal Following. If anyone would like to submit a guest post, send me an email to DonMosesLerman@gmail.com.
Tuesday, September 18, 2007
IF THERE IS ANOTHER WING BOWL REUNION WHO SHOULD BE GET A BYE?
Tuesday, September 04, 2007
REVIEW OF THE WEEK ''CHART HOUSE'' DOBBES FERRY N.Y
DON LERMAN WITH HIS AUNT RHODA WHO NAMED HIM MOSES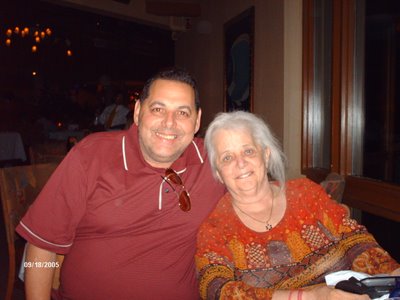 THE CHART HOUSE US LOCATED IN DOOBS FERRY N.Y . IT WAS MY AUNT RHODAS BIRTHDAY . THE RESTAURANT IS LOCATED RIGHT ON THE WATER ''THE HUDSON RIVER'' I STARTED OFF WITH A BOWL OF LOBSTER BISC AND CLAM CHOWDER THAT I THOUGHT WAS VERY GOD SERVED IN A STEALBOWL. THEN I HAD THE MACADAMIA CRUSTED HALIBUT MY NEPHEW HAD THE SNAPPER HEMINGWAY MY NEICE HAD THE SHRIMP FASCIA MY SISTER HAD THE SHRIMP TRIO AS DID MY BROTHER IN LAW TED . WE ALL H AD SALADS EVER THING WAS FINE , IT WAS AUNTS VUIRTHDAY AND AND THEY WERE SHORT OF STAFF AND THE ONLY FAULT WAS FOR A PARTY OF 12 IT TOOK 4 HRS

. IF YOUR

IN DOBBS FERRY I RECOMMEMD THE PLACE THOU EACH ENTREE WAS ABOUT 25-30 DOLLARS//END
Archives
March 2006 April 2006 May 2006 June 2006 July 2006 August 2006 September 2006 October 2006 November 2006 December 2006 January 2007 February 2007 March 2007 April 2007 May 2007 June 2007 July 2007 August 2007 September 2007 October 2007 November 2007 December 2007 January 2008 February 2008 March 2008 April 2008 May 2008 June 2008 October 2008 November 2008 January 2009 February 2009 April 2009 May 2009 June 2009 July 2009 August 2009 September 2009 October 2009 November 2009 December 2009 January 2010 February 2010