Moses Entertainment Page
This is the section of MosesNews.com where we present entertainment tailored to our Loyal Following. If anyone would like to submit a guest post, send me an email to DonMosesLerman@gmail.com.
Thursday, February 28, 2008
Take A Break And Watch The Clip Below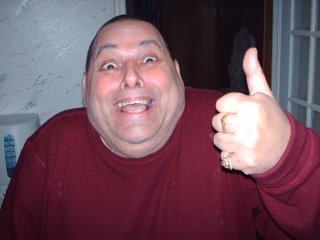 " The Charge Of The Light Brigade''
Monday, February 25, 2008
Do You Concider Competitive Eating A Sport or Not ?
No offense to the dart throwers
Posted by Mikel LeFort in
The online edition

You must always be careful with poll questions, especially if those who may be offended are in town and carrying weapons.
We decided Friday to ask the weekend question, which of these is not a sport:- Darts- Pool- Dog shows- Poker- Bowling
With the state dart tournament in town, it seemed timely, especially given the discussion which arises whenever some of these events come up: In which section do we put them? Sports or news?
What determines a sport? Athletic ability? Does that mean that darts and pool require athletic ability … or just hand-eye coordination?
Isn't a dog show just a beauty pageant? That is our determination when putting the Westminster stories in the news section (those trainers of the larger breeds though, man they have to do some running around that ring).
What about poker? It's on ESPN, does that make it a sport? Or is gambling just a game of chance … but if it's a game, which section does that belong in?
Bowling, well, that is the sport-iest of all the answers, although one could argue that the dogs are in far better athletic shape than many of the bowlers.
Game, sport, recreation, competition, pageant … decisions, decisions.
Others which could have made the poll question: synchronized swimming, rhythmic gymnastics, monster trucks, debate/forensics, chess, weightlifting, table tennis,
competitive eating
… can you think of others?
This entry was posted on Sunday, February 24th, 2008 at 11:04 pm and is filed under
The online edition
. You can follow any responses to this entry through the
RSS 2.0
feed. You can
leave a response
, or
trackback
from your own site.
Leave a Reply
Name (required)
Sunday, February 24, 2008
Andrew Sisters..Buck Privates ( shut music off on top as clip contains its ownsound)
Sunday, February 17, 2008
New Resturant Is Crappy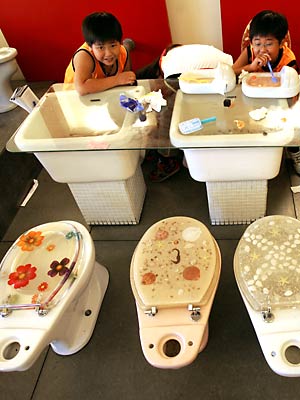 A new resturant in Taiwan uses sinks and toilet bowls as tables and chairs as seen in the above photo....

end
Tuesday, February 05, 2008
Should Resturants Ban Obese Custumers .. Whats Your Take On The Subject?
Archives
March 2006 April 2006 May 2006 June 2006 July 2006 August 2006 September 2006 October 2006 November 2006 December 2006 January 2007 February 2007 March 2007 April 2007 May 2007 June 2007 July 2007 August 2007 September 2007 October 2007 November 2007 December 2007 January 2008 February 2008 March 2008 April 2008 May 2008 June 2008 October 2008 November 2008 January 2009 February 2009 April 2009 May 2009 June 2009 July 2009 August 2009 September 2009 October 2009 November 2009 December 2009 January 2010 February 2010