Moses Entertainment Page
This is the section of MosesNews.com where we present entertainment tailored to our Loyal Following. If anyone would like to submit a guest post, send me an email to DonMosesLerman@gmail.com.
Sunday, April 30, 2006
OLGA ''THE OLD GAL'' WINS BOBKA CONTEST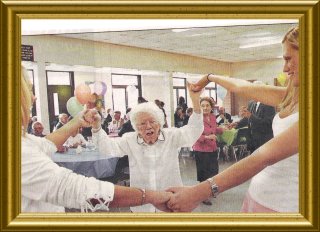 OLGA ''THE SEAMSTRESS'' ALSO KNOWN AS THE ''OLD GAL'' WINS THE WARSAW OPEN BOBKA CONTEST (shown above celebrating her victory) OLGA NOT ONLY ATE 6 BOBKAS BUT BAKED THEM AS WELL. OLGA SAYS THAT SHE WOULD LIKE TO COME TO THE U.S.A TO COMPETE AND VISIT WITH GUSTOFF ZYCHICK WHO SHE HASN'T SEEN IN 29 YEARS

Friday, April 28, 2006
CONTEST EVERY MONTH
CREATE YOUR OWN QUESTION
Sunday, April 23, 2006
GREETINGS FROM COUSIN CHUBBY
Monday, April 17, 2006
TO STAND OR SIT IN A CONTEST
Friday, April 14, 2006
DEFENDING TITLE HOW LONG?
Thursday, April 13, 2006
CONCESSION STAND FOR MERCHANDISE
Sunday, April 09, 2006
should olga be allowed to compete .
Thursday, April 06, 2006
MATZAH BALL CONTEST
Wednesday, April 05, 2006
PICKLE CONTEST
Monday, April 03, 2006
open contests or lottery
Archives
March 2006 April 2006 May 2006 June 2006 July 2006 August 2006 September 2006 October 2006 November 2006 December 2006 January 2007 February 2007 March 2007 April 2007 May 2007 June 2007 July 2007 August 2007 September 2007 October 2007 November 2007 December 2007 January 2008 February 2008 March 2008 April 2008 May 2008 June 2008 October 2008 November 2008 January 2009 February 2009 April 2009 May 2009 June 2009 July 2009 August 2009 September 2009 October 2009 November 2009 December 2009 January 2010 February 2010