Moses Entertainment Page
This is the section of MosesNews.com where we present entertainment tailored to our Loyal Following. If anyone would like to submit a guest post, send me an email to DonMosesLerman@gmail.com.
Wednesday, February 28, 2007
SPECIAL MID WEEK RESTURANT REVIEW '' EAST'' CHINESE BUFFET
EAST IS THE KING OF CHINESE BUFFETS , ITS EXPENSIVE BUT WORTH THE TRIP. ITS LOCATED AT 179 WALT WHITMAN RD. RT, 110 HUNTINGTON STATION NY 11746 IN LONG ISLAND TAKE THE LIE TO EXIT 49N OR THE NORTHERN STATE TO EXIT 40N TO RT 110. THEY HAVE AN ARRAY OF APPETIZERS THAT'S SIMPLY UNBELIEVABLE FROM PRIME RIB TO ROAST DUCK . BABY LAMB CHOPS YOU NAME IT THEY GOT IT . IT DOESN'T STOP THERE THE DESERT BAR IS LOADED WITH CUSTARDS AND ICE CREAM AS WELL AS FRESH FRUIT AND COOKIES IT ALSO HAS A FULL SALAD BAR I ATE SO MUCH I ALMOST COULDN'T MAKE IT TO THE MENS ROOM ,PREGNANT WOMEN WILL UNDERSTAND THIS I ATE SO MUCH I WAS PRACTICALLY CROWNING. I WAS DISAPPOINTED THAT THERE WAS NO FORTUNE COOKIE AT THE END OF THE MEAL AND THE TIP IS ADDD ON AS A SERVER CHARGE. THE WHOLE MEAL COST ED $ 22 A PERSON PLUS DRINKS AND SODA A ND TAX IT CAME OUT FOR 4 TO $ 132 GO THERE FOR THE DINNER AS TH ATS WHEN THE SPECIAL ITEMS ARE PUT OUT. IS IT WORTH IT DURING THE WEEK YES THE PRICE GOES UP ON THE WEEKEND AND HOLIDAYS AND THE DAY BEFORE A HOLIDAY THEY RAISE THEIR PRICES ALSO .....DON LERMAN
INSIDE VIEW OF RESTURANT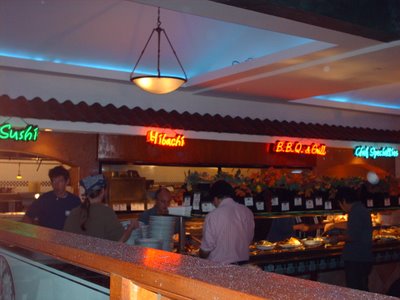 THE SOUP


IST PLATE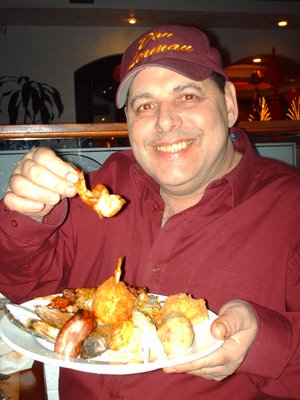 JUST LOOK AT THAT JUMBO SHRIMP!


Sunday, February 25, 2007
NEW CHINA BUFFET ... REVIEW OF THE WEEK by DON LERMAN
Monday, February 12, 2007
ADDITIONAL VINCENTS REVIEW PISCTURES
Saturday, February 10, 2007
VINCENTS CLAM BAR REVIEWED by DON LERMAN
VINCENTS CLAM BAR REVIEWED by DON LERMAN